David Cameron has returned to Downing Street with the Tories poised to defy polls and win the general election.
The Conservatives made gains in England and Wales and are forecast by the BBC to secure 331 seats in the Commons, giving them a slender majority.
Labour leader Ed Miliband said he would stand down later on Friday, saying his party must "rebuild" with a new leader.
Lib Dem leader Nick Clegg has already said he will quit, with his party set to be reduced from 57 to eight MPs.
UKIP leader Nigel Farage is also quitting after he failed to win Thanet South, losing by nearly 2,800 votes to the Conservatives.
Cameron is set to form a majority Conservative government, without the need for a coalition or the formal support of other parties.
The finishing line needed to form an absolute majority is 326, but because Sinn Fein MPs have not taken up seats and the Speaker does not normally vote, the finishing line has, in practice, been 323. In this election, Sinn Fein kept four seats.
Cameron all but declared victory in a speech after being returned as MP for Witney, in which he set out his intention to press ahead with an in/out referendum on Britain's membership of the European Union and to complete the Conservatives' economic plan.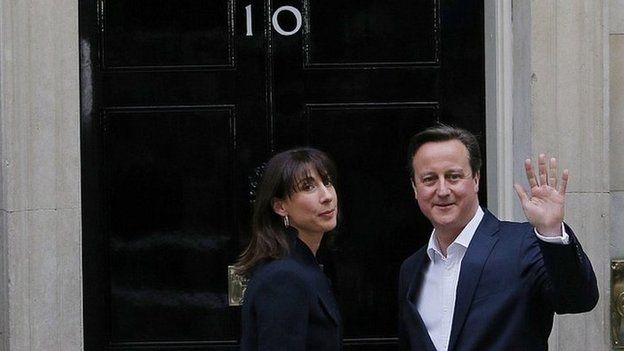 "My aim remains simple – to govern on the basis of governing for everyone in our United Kingdom," he said.
"I want to bring our country together, our United Kingdom together, not least by implementing as fast as we can the devolution that we rightly promised and came together with other parties to agree both for Wales and for Scotland.
"In short, I want my party, and I hope a government I would like to lead, to reclaim a mantle that we should never have lost – the mantle of One Nation, One United Kingdom. That is how I will govern if I am fortunate enough to form a government in the coming days."
Cameron has returned to Downing Street with his wife Samantha and is expected to hold an audience with the Queen later on Friday.
Chancellor George Osborne said the Conservatives had been "given a mandate to get on with the work we started five years ago" and would follow the "clear instructions" of the British public.
However, Work and Pensions Secretary Iain Duncan Smith acknowledged that governing with a small majority was difficult.
"Whatever else we now do we keep it simple, we keep it focused and we absolutely stick to our manifesto commitments," he told the BBC.
He said the party would deliver an EU referendum as it was a "red line". (BBC)