Tragedy has not just afflicted Joe Biden, it has shaped his political soul.
In the latest personal devastation, the Vice President must now endure the torment of burying a second child, after his beloved son Beau died from brain cancer Saturday night.
It's particularly heartrending because Beau, 46, was also a victim of an earlier incident that shattered Biden's life, a car crash at Christmas in 1972 that killed his first wife and an infant daughter and badly injured another son as well as Beau.
Stricken with grief back then, Biden contemplated vacating the Delaware Senate seat he had just won as a young rising star of the Democratic Party, but his decision to endure became the foundation on which he built his political creed and public service. In a famous photo at the time, Biden was seen being sworn into the chamber in his sons' hospital room.
Biden's daily commute between Washington and Wilmington to be with young sons Beau and Hunter became the stuff of political legend and earned him the nickname 'Amtrak Joe'.
But in a deeper sense, his personal tribulations cemented in Biden an almost mystical reverence for family. It pulsates through his politics and is at the root of his love affair with the U.S. Senate, which sustained him when his home life was torn apart and where he served for nearly four decades.
Biden spoke eloquently about that earlier tragedy at a commencement address at Yale University just a couple of weeks ago. Beau's terminal condition was not publicly known then, but after his death Biden's words took on extra meaning.
"Looking back on it, the truth be told, the real reason I went home every night was that I needed my children more than they needed me," he said, noting that pundits suggested his absences from Washington would wreck his political career.
"But I realized I didn't miss a thing. Ambition is really important. You need it. And I certainly have never lacked in having ambition," Biden said. "But ambition without perspective can be a killer."
That personal tragedy, and his own later near-death experience after a cranial aneurysm in 1988, also molded Biden's garrulous political persona. Sentiment and emotion are always just under the surface with Biden. They often burst out in unpredictable ways during his public speeches, but his unrestrained style helps him charm audiences, to the benefit of his political career.
His mythologizing of his upbringing in a home full of love but little money gives Biden instant kudos with blue-collar voters — something his boss President Barack Obama lacks.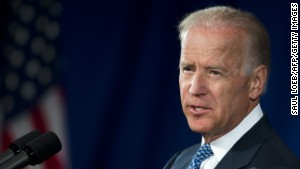 "My dad used to have an expression: 'Don't tell me what you value. Show me your budget, and I'll tell you what you value,'" Biden often recounted during the 2008 campaign.
The accident that killed his wife and daughter also forged a bond between Biden and pillars of the Democratic Party like firefighters and police unions.
At an International Association of Fire Fighters conference in 2007, Biden said the firemen extricated his sons from the car wreck; got him to hospital during a snow storm when he was critically ill with the aneurysm; and saved his home when it was struck by lightning with his second wife Jill inside.
"You took care of me in the worst times of my life, literally saved the lives of three Bidens, maybe four, and you did it like you always do, never expecting to be thanked," he said, in a typical blend of pathos and blarney which left few dry eyes.
Sometimes, the teetotaling Biden seems to storm through life like it's all one big Irish wake, consoling the bereaved, slapping backs, sowing gaffes, while the pomposity of a former senator is debunked with the smile of a man who knows self mockery.  (CNN)