An "improvised explosive device" was detonated on a Tube train in south-west London during Friday's rush hour, Scotland Yard has confirmed.
The blast, at Parsons Green station on an eastbound District Line train from Wimbledon, is being treated as terrorism, police said.
Twenty-two people are being treated in hospital, mostly for burn injuries.
Assistant Commissioner Mark Rowley said hundreds of detectives, working with MI5, are investigating the explosion.
Rowley refused to answer whether anyone had yet been arrested over the incident at the station.
Pictures show a white bucket on fire inside a supermarket bag, with wires trailing on to the carriage floor.
The BBC understands the device had a timer.
BBC security correspondent Frank Gardner said the incident could have been "far worse" as indications were that the bomb "may have partially failed".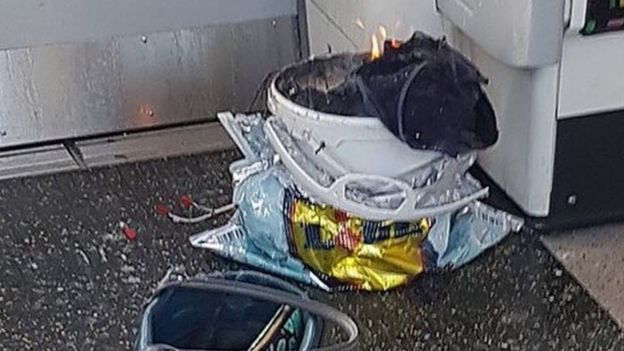 "At Parsons Green Tube station there was an explosion on a Tube train," Rowley said.
"This was a detonation of an improvised explosive device. The scene currently remains cordoned off and the investigation continues…
"Londoners can expect to see an enhanced police presence, particularly across the transport system across the day."
He asked the public to remain "vigilant" and said they should "not be alarmed".
Rowley said anyone who took pictures or videos at the scene can upload them to ukpoliceimageappeal.co.uk.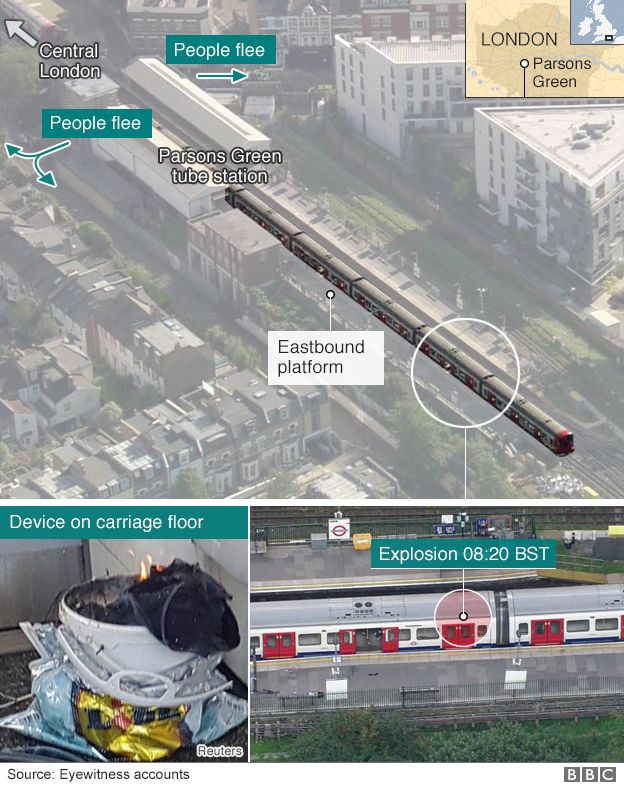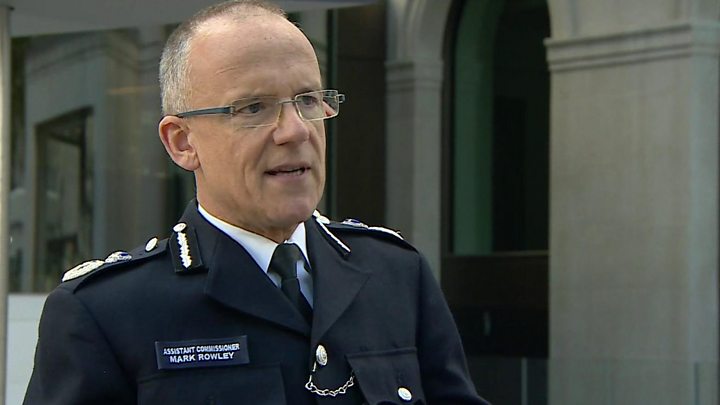 Prime Minister Theresa May tweeted: "My thoughts are with those injured at Parsons Green and emergency services who are responding bravely to this terrorist incident."
The government's emergency committee, Cobra, is currently meeting.
Mayor of London Sadiq Khan has appealed for calm, saying the city "will never be intimidated or defeated by terrorism".
Home Secretary Amber Rudd said: "Once more people going about their everyday lives have been targeted in a callous and indiscriminate way. My thoughts are with all those injured and affected."
US president Donald Trump tweeted: "Another attack in London by a loser terrorist. These are sick and demented people who were in the sights of Scotland Yard. Must be proactive!" (BBC)